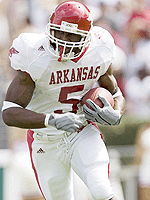 Arkansas RB Darren McFadden will be rated a 99 in NCAA Football 08, making him the game's highest rated player.
McFadden is the only returning Heisman Trophy candidate (Brady Quinn and Troy Smith moved on to the NFL) where he finished as the runner-up behind Smith. He won the Doak Walker Award for the nation's best running back tallying 15 rushing touchdowns on 1,558 yards as well as adding in 3 TD passes.
Receiving the highest rating in NCAA Football 08 was certainly deserved based on McFadden's performance from the last two years and the spotlight being on him to begin this season. Some others such as West Virginia RB Steve Slaton and Hawaii QB Colt Brennan will likely be right on his tail ratings wise.