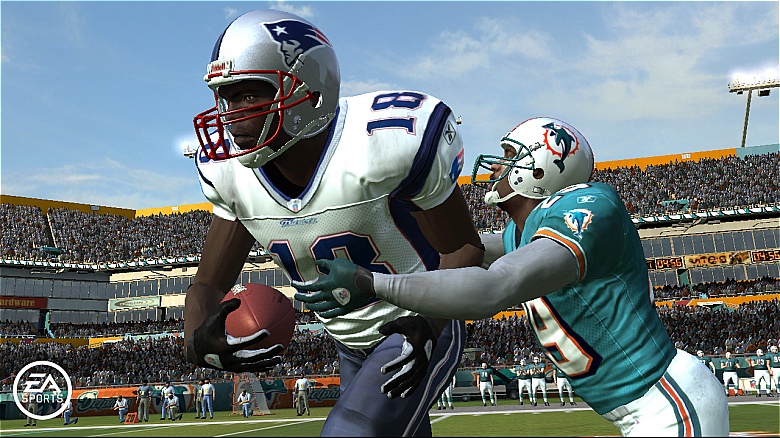 EA Sports has revealed one player for each weapon category to give an idea of the type of individual that fits into each. Keep in mind that players can have more than one weapon.
Cannon Arm (Brett Favre – Packers)
Hands (Marvin Harrison – Colts)
Spectacular Catch (Chris Chambers – Dolphins)
Power Back (Larry Johnson – Chiefs)
Press Coverage (Ty Law – Chiefs)
Pass Blocker (Walter Jones – Seahawks)
Finesse Move Defensive Lineman (Dwight Freeney – Colts)
Route Running (Torry Holt – Rams)
Power Move Defensive Lineman (Albert Haynesworth – Titans)
Possession Receiver (Muhsin Muhammad – Bears)
Shutdown Corner (Champ Bailey – Broncos)
Smart Quarterback (Peyton Manning – Colts)
Stiff Arm Ball Carrier (Lawrence Maroney – Patriots)
Smart Safety (John Lynch – Broncos)
Speed (Devin Hester – Bears)
Smart Corner (Ronde Barber – Buccaneers)
Smart Linebacker (Zach Thomas – Dolphins)
Big Foot Kicker (Sebastian Janikowski – Raiders)
Accurate Kicker (Adam Vinatieri – Colts)
Elusive Back (Reggie Bush – Saints)
Big Hitter (Fred Smoot – Redskins) *edit* This has now been confirmed to be Sean Taylor and not Smoot 
Accurate Quarterback (Drew Brees – Saints)
Brick Wall Defender (Ray Lewis – Ravens)
Crushing Run Blocker (Jonathan Ogden – Ravens)
–
Aside from the "Big Hitter" (sure they didn't mean Sean Taylor?) they all seem to make sense. This is an aspect of Madden 08 that is already greatly anticipated. It should be interesting to find out everyone who falls into each category. Now not only will ratings be highly scrutinized, but inclusion into weapon categories will be as well.