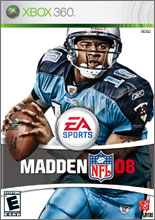 EA has released an update on some aspects of franchise mode via producer blog from Ronnie Morales. It touches on the subjects of tuning in player progression, owner mode, and create-a-team.
I don't really spend much if any time in franchise mode but it obviously is one of if not the most popular mode in Madden. I tend to play mostly online and the offline time would be more spent in something like superstar mode.
This blog entry is a good look at what they're doing in these areas. I can't remember ever seeing graphs and in progress work being displayed like they have here. That has to be encouraging for fans looking for improvements to franchise mode.