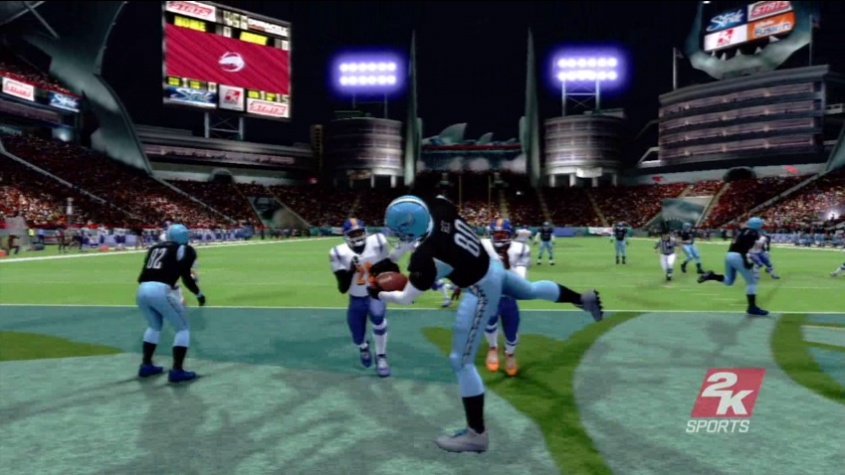 On Monday, the site allgames.com radio show did a segment on APF 2K8.
By late in the evening, the thread at Operation Sports had nearly reached 350 replies. Multiple threads on the 2K forums were created, including ones with different theories and conspiracies about why the game wasn't being touted as the greatest thing ever.
The first frustration came from sitting though a multi-hour show that everyone seemed to feel was completely worthless and embarrassingly bad. That likely didn't help matters.
After finally getting to the discussion on APF, they laid out many details of the game that were previously unknown and gave their overall impressions on it.
-Essentially the game is NFL 2K5 only with Legends/generic players replacing the NFL license

-Were surprised by the low quality trailer

-Graphics are mediocre. Looks like 2K5 with polish.

-May have downloadable content

-30 stadiums (did not like the over-the-top nature of them)

-Didn't have enough "time" to implement a franchise mode

-Customization can't be used online. No custom teams, plays, uniforms, or created players,

-Players were generally too skinny looking

-Natural Motion was not utilized

-Still has the button mashing for speed burst

-Pass defense seemed to be done well

-Ability for custom soundtracks

-Didn't see a halftime show or highlights. Presentation has taken a hit after losing ESPN license. It could be that they just didn't see it or it wasn't in that build however.

-Full resources were not given to the game as they want to see how it sells as is before committing more to it

-2K fans should still enjoy the game

-Not a real next-gen experience
A few months back I laid out how APF could be successful in the current marketplace. They haven't followed much of what seemed to be obvious. The marketing has been lacking to say the least and there have been many questionable decisions along the way.
It was a risk to abandon their fans on the PS2. The same ones who bought the game for $20 because it was a bargain. Many of those have not moved on to new consoles, yet they're left without the opportunity to buy the game. With it looking like the game could have been made for the PS2, that could very well end up being the most regrettable decision of them all.
There is still much we don't know about how APF will work, let alone if it will be any good. Hell, 2K has yet to even confirm release date. That doesn't instill a great deal of confidence in those who are following along.
As I've been saying for a while, the talk behind the scenes was that APF wasn't shaping up to be anything extraordinary. So the continued support of that belief has not come as a surprise.
Regardless, the hardcore 2K fans who want to support it will still purchase the game. Unfortunately, that group is no where near strong enough to support it by themselves. If that is all that comes out for it, there won't be any follow-ups in the series. Will there be enough interest to expand to others? Will Madden and NCAA fans give it a chance? There is no way to know that just yet, but the recent revealings haven't given much hope that they will be swayed to do so.