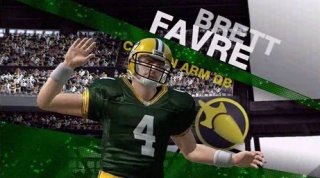 A new set of videos has been posted up by Gametrailers. It continues the same Packers vs Chiefs in Hawaii game that began with a video last night.
Continue through to the full article to view the videos as well as my notes on them.

Great, we have some plays showing off the QB getting sacked before he can turn around following a play fake. Thanks for highlighting one of the most frustrating things that can happen in a football game.

There is some nice gang tackling seen in the second video. In one you can see where Larry Johnson previously would've continue to drag and eventually fall forward but the gang tackle stopped his momentum and took him down.

Thoughts earlier on the real-time celebrations and how much improved that is over cut scenes, as well as the annoyances of things such as the jumbotron cutaways still apply.

Got another look at the play call screen, and unfortunately it does appear to be the redesigned one we've seen in NCAA Football.

It's rather annoying to see how far whoever is playing continually drops their QB back.

At least the player introductions are different. Still could be a lot better but have certainly improved vs last year. The announcer saying "here is today's starter at tight end" instead of saying Bubba Franks name? "Here is today's starter at receiver" instead of saying Greg Jennings. Seems out of place. I do like that they accent the weapon players in the intros though.