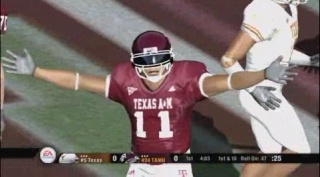 There are three new videos for NCAA Football 08 out matching Texas against Texas A&M. They are labeled as "Field Goal Kicking Gameplay", "Defensive Line Gameplay", and "Solid Offense Gameplay". The videos don't really feature one aspect of the game over any other though. Well, outside of the one field goal in the "Field Goal Kicking Gameplay" vid anyway.
The videos and my notes on them can be viewed by clicking through to the full article.
Notes I made while watching:
Dislike the new play calling screen. The sentiment coming out of Community Day agrees.

The running back caught a pass in the flat and immediately turned upfield. Looked very nice, big improvement.

Players were making quick movements and it looked very responsive. 

The graphics looked sharp, the 60fps I think is a big part of just giving it an overall better feel.

The player models looked excellent. The offensive/defensive line players have never looked so good.

On one play the QB got sacked before he could hand the ball off. There is nothing more frustrating than that. Hopefully it was a fluke.

I get annoyed with people who only play 4-6 defense.