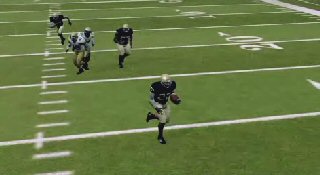 Gametrailers has really been pushing out a ton of videos for NCAA Football 08 lately. Here are the two newest ones.
The first video shows off an interception return for a TD. You then get the user going through and creating the highlight video as well as see a glimpse at "My Shrine".
The second one shows off gameplay as Florida faces off against Georgia.
Click through to the full article to view the videos as well as my notes on them.
The video highlight feature is my thing I'm most anticipating. That is going to be great to upload and show your clips off. I like that you get to choose the camera angle of which there are several new ones EA added. Hopefully next year they expand on it and let you cut highlight reels, edit the videos, add music, ect.
Until now I hadn't really cared about "My Shrine", the feature that would be showing your highlight videos in the main menu. But once I actually saw it in action in the first video I realized how cool that it actually looks. It still doesn't add much to the game so it isn't really anything to get excited about but it looks like it'll be a neat thing to have up there.
Thats what the QB deserves for throwing off his back foot like that. Hopefully its a sign that you won't be able to get away with crap like that this year.
The game just looks really sharp. The graphics are clean and colors bright, the player models look like the best any football game has ever had, and the 60fps really makes a huge difference.
That crowd is crazy, they sure really love to jump.