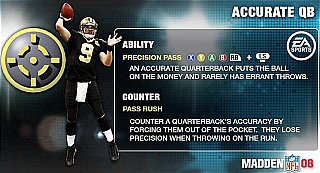 The following screenshots showcase all 24 weapon categories in Madden 08. Not only do the screens show how to manually trigger the special abilities but it also lists which weapon categories counter the strengths of each.
For example in the case of wide receivers with the Spectacular Catch weapon, players on defense who hold the Big Hitter or Shutdown Corner weapons have the opportunity to take advantage of their weaknesses or neutralize them. Spectacular Catch players leave themselves vulnerable to big hits that could jar the ball loose.
Click through to view all 24 screenshots and the thumbnails to view the images at full size.