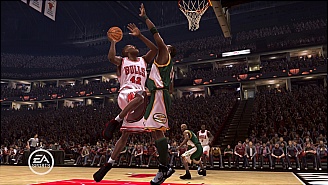 In a new blog posting, NBA Live 08 Producer Brian Ullrich mentions that there will be a demo of the game released in September. Although he doesn't go into specifics it will likely be available for both the Xbox 360 and the PS3.
It doesn't come as a surprise to hear this news, although it is nice to have solid confirmation that the demo can be expected. EA has been giving an extraordinary amount of access to the game with many first-hand impressions, videos, screenshots, and details on features already released. The idea of a demo fits in with this as they are trying to demonstrate the progress and improvements, rather than just talking about it. After a couple of down years there will be many people who are tentative in regards to this game, so it will be important to present an opportunity where they can give it a chance with no risk involved and that is what the demo does.
Click here to read the full blog posting as Brian Ullrich answers several questions from the community.