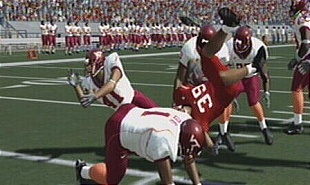 If you would like me to make to capture a screenshot of a specific team or player, or if you would like me to create a highlight video featuring specific team/s or a player, this is where you can let me know.
Leave any details you would like to see in the comments. The more specific you are the better. If there is a song you would like to go along with it you can mention that as well.
Because each video takes a couple hours from start to finish, I won't be able to do one for everybody. I'll be choosing at random. However I will try to at least get one screenshot for each person who asks for one of those.
Latest screens and videos posted Monday afternoon 7/16.
Continue through to view the screenshots and clips that have been completed so far.



Videos
Florida: Flea Flicker and reception by Percy Harvin #1. Click here to watch.
Oregon @ Miami: Full first drive for the Hurricanes. Click here to watch.
Arkansas: Three plays from the Wildcat formation. Click here to watch.