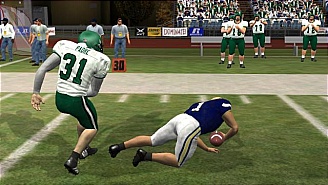 Originally my plan was that my next Campus Legend update would recap the rest of the High School experience. Once I played the very next game though I saw some cool things that I wanted to put in a new highlight video which you can find at the end of this write-up. I hope to cover the rest of High School and the start of the college experience with the next posting, which could come as early as Saturday evening but definitely by Sunday morning.
Padre High took on Federal Way in the second round. I have to say the uniforms are really nice. Far and away the best color combination in my opinion.
PH ended up winning the game 24-3. It was interesting in that the opponent in the first game ran a relatively balanced offensive attack. Federal Way here threw the ball much more heavily. There must've been 3 or 4 picks in the game because they aired it out that much.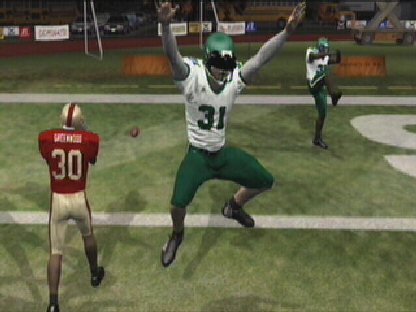 Pasta Padre collected four tackles and a pass deflection. The scouts in attendance for this game came from Arkansas, Wisconsin, SMU, Toledo, N. Texas, and N. Carolina. A few there that Padre would probably consider.
They may be more impressed with the other starting CB on the team. He had 2 INTs including taking one back for a TD. The kick return you'll see in the highlight vid was really sweet. Padre may not get credit for it in the stat sheets but he has made some nice blocks in this High School tournament.