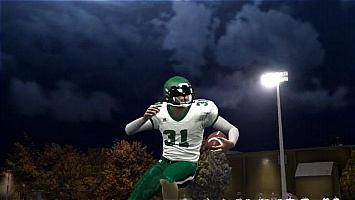 With the opportunity of playing for the State Championship looming, Padre knew he had to step up his play. He did just that on the first play of the game by getting his first INT of the High School tournament.
However after that things didn't go quite as planned. I had actually wondered if they had made it so your school advances to at least the Championship game. Well I know now, as Padre High fell to Tukwila 10-7. Continue on for some video clips from the game and the first steps towards college.
Statistically it was a good game for Padre. He had 6 tackles (one for loss) and the INT. However he couldn't bring down the ball carrier on a crucial 3rd down late in the game. Instead of getting the ball back with just under 2 minutes to go, they had to wait until there were only 19 seconds left. The offense wasn't going to be able to get into scoring position and get a FG attempt without any timeouts left.
So Padre's HS career ends, but he moves on to college. It was time to go to Signing Day. Padre reviewed the list of schools that had offered him scholarships. Literally it must've been every college in the nation. I didn't count them all, but my guess is it was every team. Now they all offered scholarships, but his standing on the team would vary. There were offers of being a starter, 3rd, 4th, 5th, or 6th string.
Padre seriously considered a number of schools. Washington (starter), San Diego State (starter), and Louisville (3rd string) were his favorites that he passed on. Ultimately he decided on Wake Forest which was offering him 3rd string.

First up the game gives you a schedule. Each day on it consists of "Class", "Practice", and "Evening Event". You're locked into going to class each day. I choose to sim the practice.

Then comes the evening events which offer a scenario. Padre's first day there was a team softball game. He decided to play in it (although you don't actually do the events, it just tells you what happened). Playing in that paid dividends as he received +1 popularity, +1 strength, and +1 speed. However by participating he took a hit in injury resistance of -2. The next day's event was an oyster eating competition. No way was Padre going to join in to that. He didn't get any + or – for this since it said he went to the event anyway to support the charity. On the third day it was a basketball game with buddies. Padre stayed in and studied instead, and got a +0.3 GPA boost because of it.

Checking out Padre's standing on Wake Forest shows him as the nickel back. In ratings hes 80 OVR, 98 SPD, 95 AGI, 94 ACC, 48 AWR.

The next Campus Legend update will bring his first collegiate action as Wake Forest travels to face #25 Boston College.