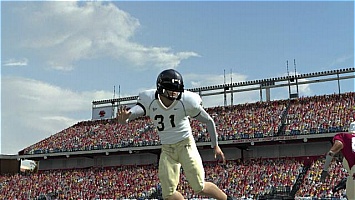 This recap will go over the results of Padre's first three collegiate games. There was one cool clip that I had but the game said that the file was corrupted so that is lost for good.
Being the nickel CB, Padre is generally only on the field in passing situations. Maybe gets in for on average 1-5 defensive plays per drive. He also plays on special teams, covering and blocking on kicks and punts.

Wake @ #25 Boston College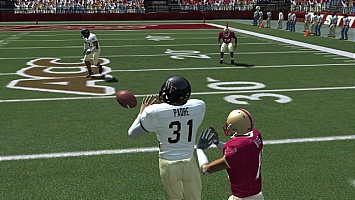 Surprisingly this one was a blowout. The Demon Deacons won 41-3. Once the game was out of reach, late in the 3rd quarter the team sat their starters. So Padre played on the outside for the rest of the game which was cool. Noticed that the crowd never left despite the score and they still loved jumping around, although I don't think they were as loud as they had been earlier. One thing I've noticed is they like to blitz Padre out of the nickel. Not very successfully though, as he gets owned by any blocker that gets in his way. He had an opportunity for an INT but dropped it. Finished with 5 tackles and the pass deflection.
Nebraska @ Wake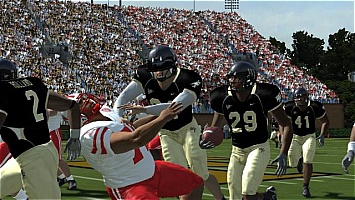 This was a back and forth game. Nebraska got a big TD with 2:50 left to take a 31-17. But Wake Came back to score a TD with 1:30 to go. Did get the ball back with :46 and got a shot at the end zone but it wasn't meant to be. Nebraska wins 31-24. In an odd selection, an extra point was named the "Game Changing Performance". Padre didn't record any stats in this game.
Army @ Wake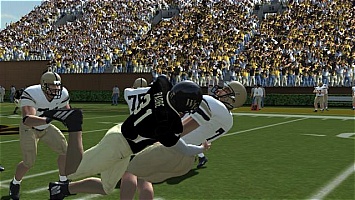 After the disappointing loss, Wake came out and put to bed any concern that it would happen again. Jumped out to an early lead and it was never in doubt. Ended up winning 34-9. Padre also vowed to come out and step up his performance. He did just that as he finished with 7 tackles (2 for loss) and his first career sack. He even got a couple snaps at SS after the starter got injured and the backup got tired. One thing I mentioned in the High School games was the ease of getting around the blockers on kick/punt coverages. While its still pretty easy on punts, its not nearly as easy to get around and tackle the kick returner. It does seem like the guys are bigger and smarter and don't allow it to happen as often. This is the game that I had the clip of Padre's sack that was corrupted. He also got called for his first pass interference penalty. Near the end of the 3rd quarter he moved to the outside as the starters got pulled.
So Wake Forest currently sits at 2-1. The next update should come this evening and will recap the next handful of games.