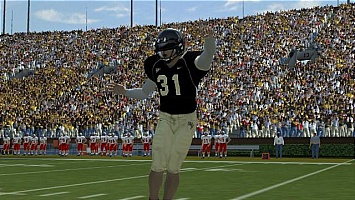 Part 1 – Part 2 – Part 3 – Part 4
One question I've seen around is pertaining to the quarter length in Campus Legend. Well, you probably don't want to go any longer than 5 minute quarters. In the mode, the clock doesn't run during play selection. So for example, lets say a play ends with 1:59 on the clock. It then goes to the play screen where you OK it to continue. Then it goes back to the field where it is 1:59 as the teams break the huddle.
I noted a few long drives and the time it took for them to complete. 8 plays – :49. 9 plays – 1:11. 11 plays – 1:30. 14 plays – 2:20. Those are super sim numbers. When Padre was on the field for an entire drive, it went for 10 plays and only 30 seconds expired.
So with 5 minute quarters you're getting a bunch of extra plays that you wouldn't get in a normal game. The scores I've gotten reflect that. If you go longer than 5 minutes expect a ton of points.
Continue on for more game recaps including screens and highlight clips.
Maryland (2-1) @ Wake (2-1)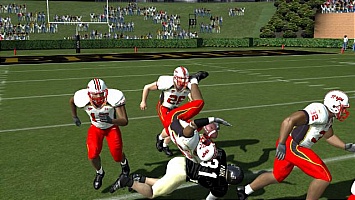 Checked the ratings before playing this game, Padre came in rated an 82. The #2 corner has a rating of 84. So we'll see if Padre cracks the starting lineup anytime soon. In this game he forced a fumble, the first of his career. That would end up being the "Pontiac Game Changing Performance". He also collected four tackles as the Demon Deacons went on to win 38-28.
Wake (3-1) @ Duke (1-4)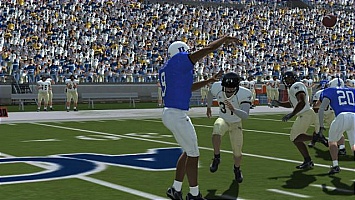 This was a pretty competitive game, which was unexpected. If Duke hadn't missed two field goals in the first half who knows how things would've turned out. Padre finished with three tackles, however he also gave up a TD pass. Wake went on to a 44-31 victory. One exciting element in this game that was new was receiving an onside. That was actually an intense feeling due to the pressure and knowing you can potentially make or break that play.
Florida State (3-2) @ Wake (4-1)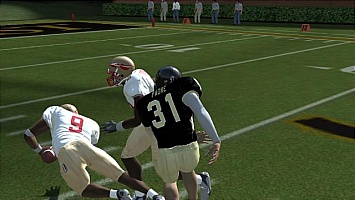 Padre's overall rating has dropped back down to an 80 while the #2 corner is up to 86. May not be able to steal that starting spot after all. One of the biggest plays of his career came in the 3rd quarter as he stopped the RB in the end zone for a safety cut the lead to only one point. It wasn't meant to be though as FSU went on to win 27-24. In this game Padre got an opportunity to try and recover an onside kick but it was hit too strong and he couldn't get there in time. In another interesting choice, an extra point is selected as the "Game Changing Performance".
Next update to come Monday morning/afternoon with another recap of regular season games!