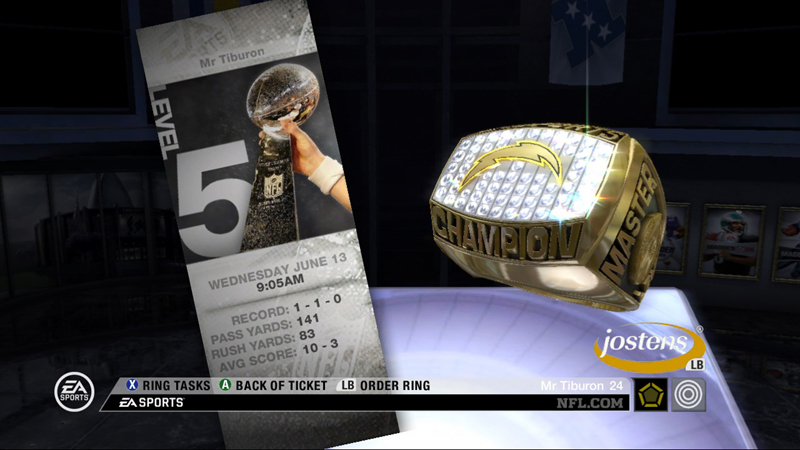 I added the exclamation point sarcastically. EA will be offering the opportunity to purchase your very own Jostens Madden ring through the Xbox 360 and PS3 versions of the game. It can be yours for only $149 or $495!
The Ring of a Champion series will serve as a visual tracking system for a player's success within the game. As Madden NFL 08 gamers accomplish various achievements, they will progress through five different levels. Once a player has reached level three, the ring can be purchased through Jostens' website utilizing the code provided within game. In addition to the 32 NFL team logos players can incorporate into their ring, the tops and sides of the rings can also be customized. If a player is able to execute an extraordinary achievement they can obtain the Epic ring status, which allows for enhanced design and uniqueness.

Minneapolis-based Jostens, creators of 27 out of the 41 Super Bowl Championship rings, and EA have worked together to create the collection of Madden NFL 08 rings, incorporating a unique ring design feature embedded in the game. Jostens will offer three unique ring designs that are available in non-precious metals as well as 10K white and yellow gold. Gamers can also choose from a variety of colors to add to further customize. Rings will range in price from $149 for a non precious ring to $495 for a 10K Gold ring. Each ring incorporates simulated stones chosen by the gamer as well as cubic zirconium stones in the design and gamers will also be given the option to add genuine diamonds if they prefer the ultimate in their Ring of a Champion.
Now, I'm sure there will be people who actually purchase this. So when it comes down to it why not offer them? Yet this will still likely be the subject of ridicule. It's only a matter of time until someone on a message board makes the statement that EA should have spent more time on gameplay and less time on designing rings.
It doesn't matter to me. I won't buy it, and if someone finds value in it I'm happy they can purchase it. Click the thumbnails below for the full size images.