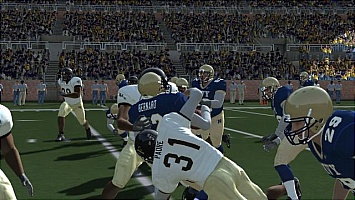 It seems that if you sim practice you don't get any credit for them. Padre is still 41 "points" behind the next guy on the depth chart. Been stuck there the whole season. I went in and played four practices. Through 40 plays, I was only able to make one tackle. That is the one that took me from 45 points back to 41 points back. As a CB it is really tough to do anything in the practices. I'm going to try a few more before the set of games following this update and we'll see how that goes.
I've noticed that the CPU likes to attempt long field goals. 50+ yard tries, even seen one from 56. They usually miss these.
For the first time I went in and checked out the ESPNEWS section. Has areas showing off the Top 25 Polls, Heisman Watch, Conference Standings, BCS Rankings, Bowl Projections, and Toughest Places to Play. Some interesting stuff in there to read through.
One more note. Padre's currently has a 4.0 GPA. He feels that to be a true legend you have to carry yourself as one off the field as well as on.
Continue on for a recap and video clips of the next three games in the season.
Wake (4-2) @ Navy (1-5)
It was immediately noticeable that the type of team you play really differs. In this game, Navy ran the ball 39 times as opposed to only 7 pass attempts. They ran a lot of Big formations, especially the Wishbone. Ran some option plays as well as FB dives. In the 3rd quarter the starting CB got hurt for just that quarter so Padre got some extra playing time. Come 4th quarter they left Padre on the outside as the game was out of reach. Wake went on to win 31-0. Padre recorded 4 tackles (1 for loss) and his second sack of the season.
North Carolina (3-4) @ Wake (5-2)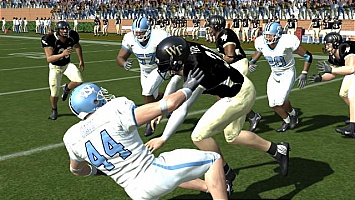 This is a rivalry game, and it was played like one. In contrast to the Navy game, UNC liked to air the ball out and put a lot of receivers on the field. This meant Padre was in on many more plays. He only recorded 2 tackles though this game. Wake scored a TD to tie it up at 24 with :44 left. This is the first game I've played that went to overtime. Wake got a FG on their possession. Then UNC set up for a 37 yard FG but it missed wide right.
Wake (6-2) @ Virginia (5-4)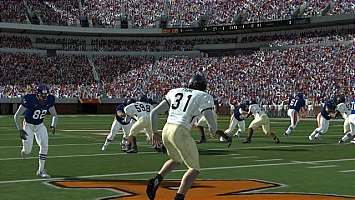 Another tough ACC matchup traveling to Virginia. After the game ended this was deemed an "ESPN Instant Classic". Padre didn't factor in much as he only got in 2 tackles. A missed extra point late in the 3rd quarter looked like it could cost Virginia. Wake drove and put up a FG to take the 24-23 lead in the 4th. However a 70 yard TD pass with 1:38 remaining put Virginia ahead for good 29-24.
Next update should come either late this evening or early on Tuesday and will feature the rest of the regular season games.