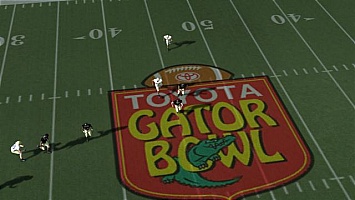 Part 1 – Part 2 – Part 3 – Part 4 – Part 5 – Part 6 – Part 7
Of note, there are no practices or evening events after the final regular season game. So there is no improving ratings between that point and any conference championship or bowl game.
Continue on for a recap of the Gator Bowl and an early look at the start of the next season!

Wake Forest (9-4) vs #17 Notre Dame (10-2)
The Demon Deacons went into the Gator Bowl as underdogs, but it was clear as soon as the game started they didn't see themselves that way. They jumped out to an early 10-0 lead. That is when Padre really sent a message to the Irish that they weren't going to get back into the game. Notre Dame attempted a fake punt when Padre came in and made the big tackle about a yard short of getting the first down. Had they converted that who knows how the game would've went. Wake went on to hold a 24-0 lead at halftime, and the final score was 34-8.
Wake wanted to play well on a National stage and set themselves up as real contenders for next year and they did just that. Padre finished with five tackles on the day. The Notre Dame QB threw 5 INTs in the game and struggled throughout against the defense that had their best performance of the season. So the Demon Deacons walk away with a trophy for winning the Gator Bowl!
Stats on the season for Padre: 52 tackles (5 for loss), 2 sacks, 1 pass deflection, 1 forced fumble, 1 safety. He played relatively well for only being in on probably 1/3 of the defensive plays. Hopefully next season he can make some bigger plays including some picks.
Texas went on to win the National Championship by beating Iowa 38-21.
So now it was time to sim through the off-season. It went through aspects such as recruiting classes, graduating players, transfers, and depth charts. That process took about five minutes.
It was just about time to get ready for Padre's sophomore season. Only 5 days until the first game at home against Alabama.
Padre is now starting and rated an 86. His increased time on the field should bring about many more opportunities for him to make plays. He was frustrated at times last year seeing big plays given up by the defense when he could only stand by and watch from the sidelines.

Wake Forest goes into the season ranked #25 in the pre-season poll. Is a BCS Bowl a possibility this year? We'll see if Padre can help lead them to one.

Check back soon for the next update which will recap approximately half of the season.