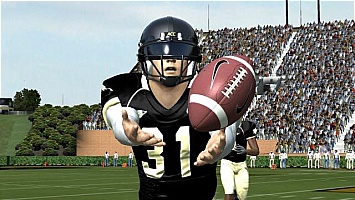 Part 1 – Part 2 – Part 3 – Part 4 – Part 5 – Part 6 – Part 7 – Part 8
Even with the game now released, Padre's Campus Legend will continue on. Following his story will give a complete background for when he is moved into Madden's Superstar mode. There is a chance he'll do so after his Junior year, it will depend on the timing.
This is a recap of the first seven games of Padre's sophomore season. Now a starter, he isn't concerned with being the #1 CB he just wants an opportunity to be on the field and help his team. Starting the season at #25 gives Wake an opportunity to make a push for a strong bowl birth.
I found out that in the EA Sports Highlights section, once you get to year 2 you need to use the RT and scroll between years. There is nothing there to indicate that. I got scared for a minute that it hadn't saved any of the screens or clips. 
One thing I've noticed throughout this mode as a CB is the QB tends to not throw the ball your way. There is a higher rated corner on the other side of the field but many more passes are thrown that direction. I see my teammates getting interception after interception and Padre barely gets any opportunities. This is somewhat frustrating. Obviously by choosing to play CB it wasn't about putting up big stats, but it would be nice to get some chances to make plays every game. I have to bait the QB into throwing to the WR I'm covering by backing off the line of scrimmage 8-10 yards or putting myself out of position and attempting to recover. Hopefully in Madden there isn't this problem because it has become somewhat annoying that the CPU QB avoids your side of the field or the guy you're covering.
Continue on to read the recaps of the first seven games! 
#18 Alabama @ #25 Wake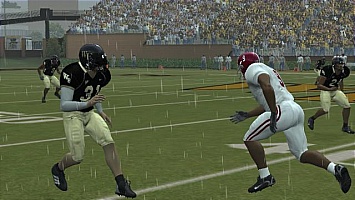 Padre forced a fumble and recorded 4 tackles (1 for loss) in this 30-25 victory over the Bama. This was a tight game throughout. A big win to start the season off.
Army (0-1) @ #21 Wake (1-0)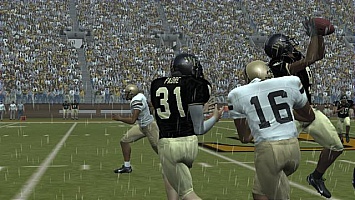 This game took place in the heaviest rain I've seen in NCAA Football 08. Wake went on to rout Army 59-17 and Padre put up 4 tackles into the stat column. He thought he had a forced fumble however the game didn't give him credit for it.
Virginia (0-2) @ #21 Wake (2-0)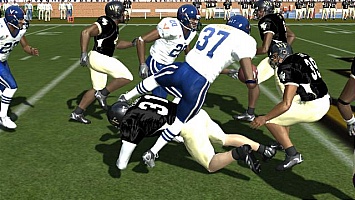 Looking for revenge over last year's loss in Virginia, the Demon Deacons came out and put the game out of reach early to sail on to a 38-10 win. Seemingly everyone on the team gets an INT other than Padre, who goes on to make 3 tackles.
#20 Wake (3-0) @ Maryland (1-2)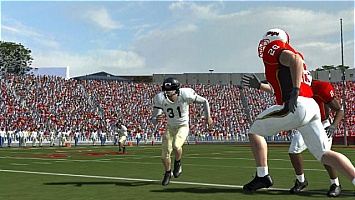 The defense really stepped it up in this game, recording its first shutout as Wake went on to win 20-0. Padre had 5 tackles.
#15 Clemson (3-0) @ #19 Wake (4-0)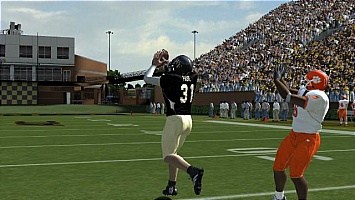 This was Padre's best game so far. He finally picked off his first pass, and went on to return it all the way for the TD. Luckily, this time it wasn't called back for pass interference. That INT-TD was named the "Pontiac Game Changing Performance". He had 6 tackles (1 for loss) and the INT-TD. He also appeared to have 2 forced fumbles but the game didn't give him credit for them. Wake wins the game 38-17.
#14 Wake (5-0) @ Florida State (3-2)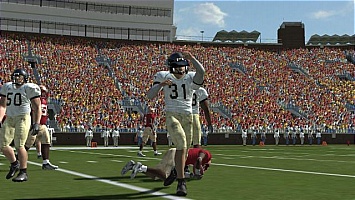 Wake's defense played horribly in the first half, allowing 99 yards to FSU's RB including 3 TDs. Their RB went on to have 152 yards rushing. A 34-14 halftime lead was cut to 34-28 with 2:22 remaining, but the defense crumbled again allowing for a long TD pass to put the game out of reach for a 40-28 final. Padre had 6 tackles (2 for loss).
Boston College (4-2) @ #20 Wake (5-1)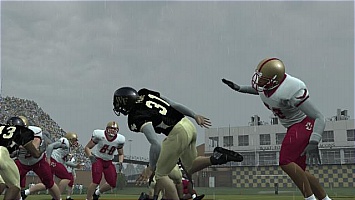 It wasn't looking good for the Demon Deacons throughout this game. The offense was sluggish, and the defense couldn't get off the field. May have been a carry over from the loss at FSU. That changed though late in the 3rd when the team scored its first TD to make the score 20-13. With only :58 seconds left it was another TD to tie it. BC then started driving down the field getting itself into a long FG situation, but they attempted a pass and it was picked off and returned for a TD as time expired! A huge win after things were bleak. Padre had 5 tackles (1 for loss). 
Check back soon for a recap of the rest of Padre's sophomore season!