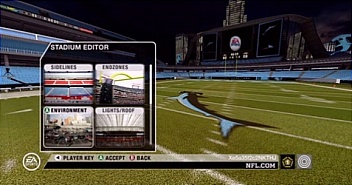 Gametrailers has posted a new video featuring a look at the modes in Madden 08. Among the topics discussed are franchise, owner, player editing/creation, online play, ESPN integration, animations, and player models.
Continue on to view the video as well as the notes I took away from it.
-The video is introduced with the statement "franchise mode is back". Of course franchise mode isn't "back" its been there all along but they have added things in and improved it. However Owner mode is returning.
-The player models are talked about and the improvements with them are one of the most obvious visual things people have noticed in screenshots and videos.
-I'm really looking forward to taking Padre from Campus Legend to Superstar Mode.
-The ESPN integration is discussed as having three aspects. Articles, video, and the ESPN Radio. To me the ESPN Radio updates are the only thing worthwhile out of the whole package.
-60fps is mentioned again in a sort of uniform manner but only the 360 version is at 60fps. The PS3 runs at 30fps.
-Really looking forward to the online additions. It will be a lot of fun to be able to challenge calls. The first time a call was challenged by my opponent online in All-Pro Football I realized how much that adds a real element of anticipation and realism. Live Opponent was a good start in Madden 07 allowing you to use custom rosters online. It looks like they're taking it to the next level for 08. Being able to use custom teams/stadiums/uniforms in online games will be neat. I'm assuming that these Live Opponent games will all be unranked however.
-Still really unfortunate that there is no screenshot/highlight clip uploading to EA Sports World like NCAA Football 08 has. I literally get bummed out just thinking about that not being in Madden this year.
-In the screen below that I took from the video the question is what is with the picture of the person's face? That only seems to have appeared during the time when a play is being reviewed. Is that something we haven't heard about being able to use the 360 camera to insert your face in the game? I don't know but its definitely interesting to see that show up from out of nowhere.