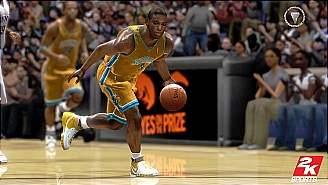 We finally have the first look at NBA 2K8 as 2K Sports has released a set of screens from the game.
Unfortunately it's quite apparent that the game didn't get the graphical upgrade that other 2K titles NHL 2K8 and MLB 2K7 received over their previous versions. They have this overly waxy look to the players and all have the same dead facial expression. The environment such as the court and crowd look like they may be improved but are difficult to judge from these. The screenshots do give away that an outdoor dunk contest is a new addition this year.
Click the thumbnails below to view the full size images.