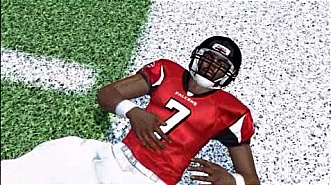 EA Product Manager Jerrold Smith has stated that both Michael Vick and Pacman Jones will be included in the original roster that ships with Madden 08.
Generally rosters for sports titles are locked in about a month and a half before the release date. So in the case of Michael Vick it isn't that surprising to hear that he'll be in the game. However it is curious that Pacman Jones still found his way in despite being suspended for the full year on May 17th. Knowing this info it is also possible to surmise that Tank Johnson will be on the Bears roster.
So how will EA deal with these situations? There is one comparable example to look at from recent history. Ricky Williams "retired" from the NFL before the 2004-2005 season began. As it was too late for EA to remove him from the actual game (Madden 2005) the first roster update took him out completely. In all likelihood that is what will happen with Vick, Jones, and Johnson.
One situation that it won't cover is the Madden Challenge. To my knowledge only the original roster that ships with the game is used throughout the challenge. No roster updates are ever applied. So that means get ready to see Michael Vick and the Falcons as one of the most popular choices once again. That probably isn't something that EA or the NFL would like given the circumstances.
With EA vowing to release weekly or bi-weekly roster updates this year, issues like the ones faced by these players should now be dealt with swiftly and rosters should be more accurate because of it. Hopefully they follow through on it and deliver the frequent and accurate roster updates. After the poor online experience from top to bottom that NCAA Football 08 has delivered and early word that Nascar 08 is faltering, its difficult to feel very confident about anything related to online play right now from EA.