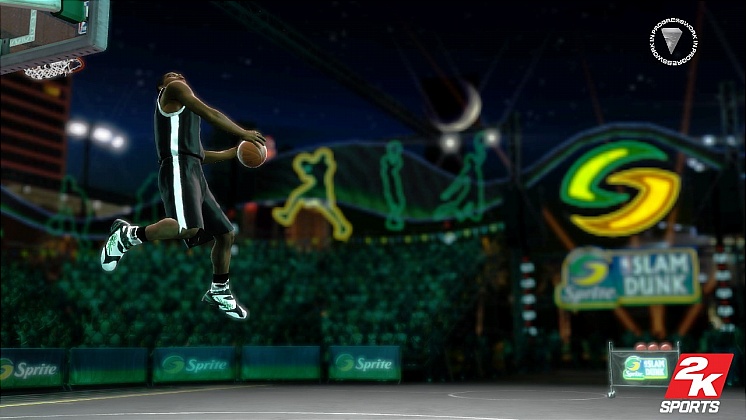 The impressions from Gamedaily regarding NBA 2K8 were interesting. As opposed to the majority of the sites that attended the recent media event, Gamedaily didn't just talk about the new dunk contest but they actually shared their opinion of what it meant in the big picture. They were disappointed that 2K didn't actually show off the game, which is what most people had hoped or expected going in. You can read their impressions in full here.
NBA Live 08 is already a great sports game, and EA's demoed it multiple times. Last night, 2K Sports mentioned that it's not resting on its laurels. If that's true, then it needs to show us more than an unpolished dunk contest. We don't mean to hate. We love 2K7 and want 2K8 immediately, but unlike years past, 2K Sports has some serious basketball competition. Time to deliver.
I mentioned in one of my previous writeups that it was curious that 2K's first reveal of NBA 2K8 would be an event to show off a dunk contest addition, which is being touted as their big feature this year. That goes along with the disappointing screenshots they released. In the past a ton would've already be out there about the game. Lots of developers have altered strategies with the changing of E3 so that in itself isn't concerning.

Though here we are, now only a little over 2 months away from release, and all we have are details on a dunk contest and a handful of screens. E3 used to take place in May just to give perspective to when the game was generally first shown off. Heck, GamePro mentioned the lack of anything for 2K8 back on June 18th and we're now a month and a half later and not much has changed.
Meanwhile Live has been made available for hands-on time, a bunch of videos and a ton of screens are out there, the community event took place in June, and many feature additions have been discussed. Yet there is even more to Live that hasn't been made public yet.
I've also stated before that 2K8 was in a position where they didn't have to prove themselves to hardcore gamers, which is true, but the longer they let it drag on with little to no info on the actual game the stronger NBA Live 08 is going to appear.
The big concern comes with the recent M.O. of 2K Sports not releasing much on a title until another that is out before it actually hits stores. That would mean the turn to focus on NBA 2K8 may not come until the first or second week of September (NHL 2K8 9/4). They came into this year in a strong position with an opportunity to capitalize on it. Thus far they haven't done so. Looking ahead I'm not sure they can afford to wait until September to talk about the real info on the game and show off videos. Live is making a strong push this year in the eyes of many and momentum is on its side. The longer 2K takes to step into the race, the tougher it will be to counteract that. This is especially so if the main addition to the game is really a dunk contest.