Part 1 – Part 2 – Part 3 – Part 4 – Part 5 – Part 6 – Part 7 – Part 8 – Part 9
As I mentioned previously the Campus Legend career of Pasta Padre will continue throughout his Junior season with the possibility of a Senior season. Since he'll be carried over into Madden's Superstar Mode, it's a good idea to keep following along to have the full history.
Continue on for the full second half of Padre's sophomore year.
#18 Wake (6-1) @ NC State (4-3)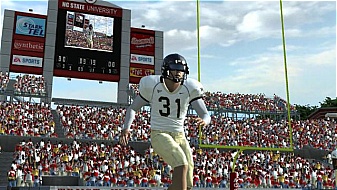 Every ACC game is important but Wake just came out flat in this one. It was a defensive battle throughout and the score at the half was 0-0. But NC State ended up pulling out ahead and held on for a 21-12 victory as Wake couldn't punch it in the end zone. Padre had 3 tackles (2 for loss).
Duke (2-6) @ Wake (6-2)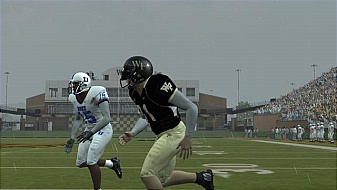 For the first time Padre had to leave a game due to injury. He bruised his ribs on the first play of the game but returned for the second series. Wake only held a 16-13 halftime lead as the defense couldn't seem to get off the field and gave up way too many third down conversions. However a 4th quarter score and another late score put the team ahead for a 30-13 win. The Duke QB threw no INTs through the first three quarters, then threw 3 INTs in the 4th. Padre had 5 tackles (1 for loss).
#9 California @ Wake (7-2)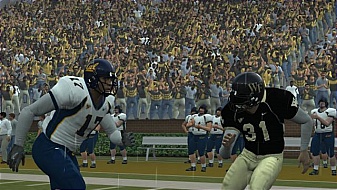 This was a rain soaked game, which made the 56 yard FG that Cal attempted even more ridiculous. However Cal held a comfortable 21-6 halftime lead. That changed pretty quickly in the 2nd half when a FG on the first drive turned momentum. Padre came out and got a safety soon after to cut the lead to 10. A TD in the 4th then cut it to 3 points. Cal's efficient passing (at one point was 17-19) didn't produce any points in the 2nd half as a TD with 46 seconds remaining put Wake ahead 25-21. However Cal moved the ball right down the field setting up for a goal to go from the 3 yard line with 3 seconds left. The pass into the end zone was intercepted and returned 103 yards for the TD to make the final 32-21. Padre had the safety to go along with 2 tackles.
#22 Wake (8-2) @ Miami (6-4)
Wake knew this would be a tough game going down to Miami with a must-win ACC matchup. The CB ahead of Padre on the depth chart was injured and out 10 weeks. So Padre now moves up to the #1 corner, although he continued to play from #2 for this game for some reason. Wake held a 13-3 lead into the 4th but Miami scored a TD with 3 minutes left. Wake then threw an INT, but Miami gave it right back with an INT of their own. Miami threw 6 INTs but still almost pulled out this game. Padre was active with 9 tackles.
#21 Wake (9-2) @ #10 TCU (9-0)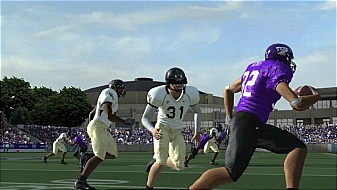 With the #1 corner out, Padre went into practice to earn the #1 spot cause it appeared the guy who was #3 was going to be slotted at #1 unless Padre earned the points to have #1 to himself. He is now rated a 93.
Playing the left side of the field meant more action. Maybe that was the problem encountered earlier with feeling like everything was thrown to the middle or other side of the field. Once moved over to the other side of the field there was a lot more opportunities. So I guess the QB might not be avoiding throwing Padre's way, but he just avoids throwing to that side of the field for the most part.
Very close game throughout. 17-17 in the 4th quarter when Wake was able to take a 24-17 lead with :59 seconds. TCU drove down the field but ultimately were stopped on downs. Another win over a highly ranked team this year as Wake spoils TCU's undefeated season.
But it wasn't enough. Despite the 10-2 record and 6-2 conference record, Wake didn't get to play for the ACC Championship this year. Instead it was on to the Chick-Fil-A Bowl. Yes, slightly disappointing since the team had a better season but ended up in a lesser bowl.
Auburn (9-3) vs #16 Wake (10-2) in Chick-Fil-A Bowl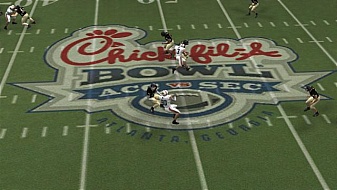 This was still a good matchup and it was an intense battle. Auburn held a 7-3 lead at the half. In the 3rd Wake was able to jump ahead 17-14 after a 70 yard TD pass to the TE. A FG later and it was 20-14 with 1:45 remaining. This is where Wake's defense has struggled although they've ultimately held on in previous games. Auburn moved the ball easily down the field setting up a goal line stand. However on 4 downs they couldn't punch it in and Wake goes on to win the Chick-Fil-A Bowl! Padre had a great game recording 9 tackles (3 for loss) and forcing a fumble which you can watch in the video below.
Ohio State defeated Oklahoma for the National Championship.
I think the team got somewhat screwed in their ranking throughout the year. Had victories over four ranked teams and two of them were in the top 10. The two losses were on the road against good teams (NCSU and FSU).
Padre finished the year with 65 tackles, 12 for loss, 1 INT, 1 PDFL, 2 forced fumbles, a safety, and a TD. He's looking forward to being the #1 guy in his Junior season and hopefully that will lead to his most successful year numbers wise.