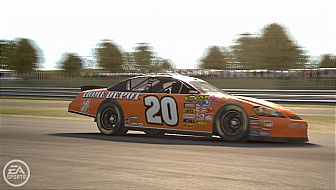 A couple days ago I wrote an article regarding the lack of attention that online play gets in reviews. I included four of the main sites and what they wrote about the online play in NCAA Football 08 compared to the real situation which has been dreadful. The positive reaction to that article was overwhelming. There certainly is a faction out there that cares about online play and are disappointed with the current situation.
Here is a new review for NCAA Football and a couple for the recently released Nascar 08 which has been getting widespread reports of lag-plagued games. When EA can't even get games to run smoothly in one vs one matchups how could anyone expect anything else for 16 player races in Nascar?
Sports Illustrated (NCAA Football): Online play is near-flawless, with very little lag. The game feels a little different because of the latency inherent in online play, but once you adjust your timing, it works very well. There's no co-op play online, which is somewhat of a disappointment.
I really have run though every response I have to these. To call it "near-flawless" is an absolute travesty.
IGN (Nascar 08): spotty online play
Brilliant. Another thorough analysis by IGN.
1UP (Nascar 08): INSERT TEXT HERE
Above is where I would insert the text from the review if they had written anything about online play.
So far the Nascar 08 reviews haven't even mentioned that it offers the ability to have 16 players. Of course I'm not sure if it matters when the experience is so poor that no one would want to play it. It is just terribly frustrating to see online play ignored or passed off with generic statements from these media outlets.
Unfortunately the same problems may well be faced with Madden 08. As of right now it would be safe to assume it will have many of the same issues as NCAA Football. Expecting otherwise would only set up for disappointment. Madden 07 ran great after the lag patch on the 360 last year. However that patch was supposed to be implemented in all the EA titles and clearly something hasn't gone according to plan.