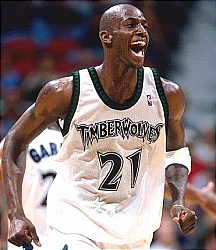 With the news now official, Kevin Garnett is a Celtic. He has been traded to Boston in exchange for Al Jefferson, Gerald Green, Sebastian Telfair, Theo Ratliff along with his expiring contract and two first round picks. Combining Garnett with Paul Pierce and Ray Allen in Boston is going to make for an exciting trio.
This amounts to a huge swing in terms of how both teams will be viewed in the basketball games. I'll be doing power rankings in relation to how good every team should be in NBA Live 08 and NBA 2K8 in the near future. This trade will catapult Boston in those rankings.
The Celtics certainly appear to be one of the better if not the best team in the Eastern Conference based on the trio of superstars. They will lack depth and struggle from the PG position. They don't have anything at C either. Really it will be a team that relies Garnett, Pierce, and Allen for everything. Despite that it will be difficult to contain the big three who all have the ability to drive or shoot from the outside.
Meanwhile the T-Wolves may not have the marquee player anymore, but this seems to be a good deal for them as well. They weren't going to do anything in the Western Conference with or without Garnett for the next couple years, so building for the future was the way to go. They'll now have a fun team to play with and have talent spread out on the court instead of only in one player. It makes them a more appealing team or a less appealing team depending on what kind of style an individual plays the game with. Some people do better with a superstar or two, while others like the freedom of not relying on just a couple specific players.
It looks like a good deal for both Boston and Minnesota. Not only for the NBA teams but also for their representation in the basketball games. Minnesota wasn't going to be a highly sought after team before but now they're a little more intriguing. When you get into a Dynasty mode they look to be in great shape for the future. Meanwhile in the weak Eastern Conference the Celtics become one of the premiere teams. They still may not match up against the Western Conference powerhouses, but with the trio of All-Stars they'll be dangerous on a game to game basis.