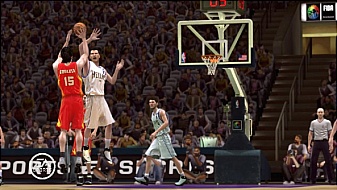 EA Sports has signed an exclusive agreement with FIBA to allow for the inclusion of international teams in the NBA Live series. Included in NBA Live 08 will be USA, Spain, Greece, France, Germany, Italy, Argentina, and China. Each will have their authentic rosters and uniforms.
"We're very excited to count FIBA as a close partner," said Jordan Edelstein, Director of Product Marketing, EA Sports. "Adding the FIBA World Championship license to the NBA Live franchise, allows us at EA Sports to add a new layer of authenticity to the franchise, giving fans all over the world a deeper virtual basketball experience."
The teams will be able to be used in Play Now or in the brand new FIBA World Championship mode which presents an eight team single elmination tournament. Also since the international players are included in the game you'll be able to bring them into Dynasty mode as well.
Click the thumbnails below for the full size screenshots and click through via the link below them to view the promo video.