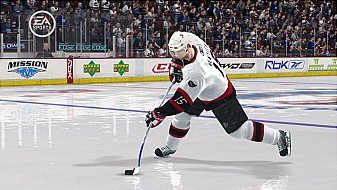 It has been announced that NHL 08 will include an online league feature on the Xbox 360 and PS3. This will be the first attempt at it from EA Sports since the ill-fated "Premium Pass" in Madden 2005.
(

1UP

) "NHL 08's online leagues don't have the full complement of features that a typical Dynasty season would have," said Atienza. "We are looking to add more depth to online leagues next year. But we do have full stat tracking."

One bummer is that there won't be player trades in NHL 08's online leagues, but they are looking to add "a bunch of other Dynasty features for next year."

As for the variety of leagues, it's possible to create one that features anywhere from two to 32 teams, or any combination in between.
This is something that has been asked for by the online community for a while now. The important thing is that it works, otherwise the feature is pointless. 2K's leagues over the last couple years have been broken in some way or another on the 360/PS3 rendering them practically worthless. If an independent site like Leaguedaddy still offers a better experience then it is a waste of time. For anyone who remembers the "Premium Pass" which included online leagues in Madden 05 it was a complete disaster and not surprising that they haven't returned since.
The leagues need to work first of all, and there has to be a lot of options and customization from a commish standpoint. So hopefully EA has put the time and effort into this feature and not just thrown it out there to have it.
Regardless at the very least it is encouraging to see they've listened to the community and decided to include online leagues. Hopefully it will become a staple of EA Sports releases to come.