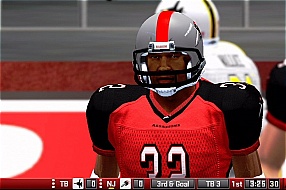 Updating previous stories on the topic of OJ Simpson's involvement in All-Pro Football 2K8, today relatives of murder victim Ron Goldman won a court order to seize any money that Simpson has made from his likeness being included in the game.
In their latest bid to collect on the civil judgment, the Goldmans went after any licensing fees, royalties or other compensation Simpson was paid or will be paid for his name and likeness in the new video game, "All-Pro Football 2K8."

Under the order issued by Los Angeles County Superior Court Judge Gerald Rosenberg, any earnings to Simpson that "have been paid, are due or may be due in the future" for use of his image and likeness in the video game must be turned over to the Goldman estate.

Moreover, Simpson was ordered to turn over copies of his Take-Two contract and related documents, as well as any other financial deals he has yet to disclose.
If there was any question whether this would become a mainstream issue, it most certainly is now. Ironically it comes weeks after release of the game which has been welcomed to lackluster sales.
While the decision to sign Simpson for the game was clearly questionable at best, the most damning aspect has been the Gametrailers.com produced video featuring OJ on "The Assassins" and showing the knife stabbing mascot after he scored a TD. 2K apparently took no measures to have GameTrailers remove the video from their site, and subsequently they posted another video that has brought about negative attention and the potential of legal action from the NFL by featuring a mock Michael Vick.