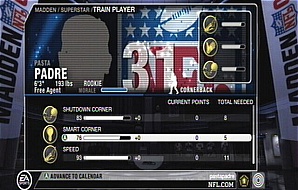 After a wildly successful Junior season at Wake Forest which included winning the Jim Thorpe Award given to the nation's best defensive back, Pasta Padre declared himself eligible for the NFL Draft and looked forward to moving on to Madden 08 Superstar mode. Click through to read all about the start of Padre's professional career.
Things got started off quickly with an interview and then a decision on which agent to sign. It seemed that there were more options for agent available to Padre than a brand new created Superstar. He ended up signing with one of the better ones and wanted to be represented by David Ortiz. The intimidation alone should net Padre some extra cash.

After another interview it was on to the first workout. This is a way to earn "points" towards weapon categories. The first one Padre went to work on was the Shutdown Corner. That brought up the coverage challenge mini-game. The next workout he went for Big Hitter, which went to the Bench Press mini-game.
Yet another interview was followed by the IQ test, of which he scored an 80%. Then another workout and he chose Press Coverage Corner and it was the coverage challenge mini-game for this as well.
Then it was time for the NFL Combine, which is tailored to the position. For Padre it meant running the 40 yard dash, doing the bench press, and competing in the coverage challenge. Other positions probably have the 40, bench, and a position specific drill.
Padre didn't do all that great in these drills and workouts. However since he was coming out of NCAA Football 08, would he get the benefit of the doubt? Or would he be given a very low rating?
The NFL Draft came and Padre was selected by the New Orleans Saints. He was disappointed in the Draft presentation. There was none. Just a screen that popped up saying what team had taken him. It didn't even specify where in the draft he was selected, and there doesn't seem to be anywhere that shows it.

After the draft a lot more options show up. Somewhat to my surprise, the equipment and appearance carried over perfectly. This is something that couldn't be said last year.
Padre was given an overall rating of 86. That is pretty fair for a highly touted rookie. So the drills didn't kill his ratings. If he was brand new he probably would've been rated below a 40. He has 93 speed despite the poor performance in the 40, which makes sense because he had 99 speed in college. His awareness is low though which is a good thing for a rookie, he is only a 57.

He is the #1 at CB, KR, and PR. Padre was happy to see he would be returning since he wasn't allowed to in NCAA. Depth charts are not changeable at all.
The emails are still in the mode. Those have basically been ignored by Padre. He sees it as a waste of time.
Supersim is in and works basically the same as NCAA. I noticed that the time runs off the clock at the play selection screen, and it runs down to 30 on the play clock if you don't click through to start the play and waits until you do. That is a positive over NCAA where the clock didn't run at all in between plays. Because of this the CPU was actually running no-huddle near the end of the second half which I don't remember seeing once in NCAA. I didn't check to see if more time was running off the clock on supersim'd drives though. There is also the option to control the team while your Superstar isn't on the field if you want to.
Training Camp (Practice) was the first thing on the calendar after the draft. Padre found himself to miss more tackles than he could make, and was most effective taking down Reggie Bush with the low hit stick. It lasts until you want to stop practicing but you can work to gain influence points. Pretty boring.
The camera angle is slightly different than NCAA's. I definitely don't like it as much. I'd basically say it falls in between last year's unplayable angle and NCAA's ideal angle. This is just speaking on the one for CBs. I'll have a look at all the other positions soon.
Influence points is an aspect of Superstar that returns from last year. While not as frustrating because it doesn't show up while not on the field, it still is pretty lame. Why does Padre gain or lose influence because of something a different player did? The offense completes a pass to the other side of the field and he loses influence points. A teammate picks off a pass and he gains influence. This also interrupts the pace and slows down how quickly the games go. Even though I just click through them without bothering to even look.
The first pre-season game came against the Bills. I noticed at Community Day that they add your player into the intros which is cool. But in this case they introduced the offense so I didn't get to see Padre come out.
Lots of INTs and many going back for TDs. The Bills threw 7 of them. Pretty similar to NCAA in that regard. I may have to change the difficulty setting and see if that helps. Especially since the Saints went on to win 51-7. Padre had 6 tackles (1 for loss), 2 INTs, 2 pass deflections, and a sack. He played the whole game despite it being pre-season. Although looking at the stats afterwards it appeared that the teams subbed out starters at positions like QB and RB.
It could be coincidence because it was only one play, but I would guess that there are no challenged calls in this mode just like there wasn't in NCAA. There was a very questionable fumble that went ignored.
Something I noticed is that it won't let you view replays after a change of possession. Fortunately you can go back at the end of the game and watch any play from the game in replay mode. I'm guessing it is some kind of glitch. There were several times I wanted to go right in and check a replay, such as after Padre's INTs and after he returned punts. But the replay option was grayed out.
So that begins the Superstar experience for Padre. Check back tomorrow for new updates. The next one will feature his first regular season games. Also I hope to get up screens and video clips showing the camera angles from all the Superstar mode positions.