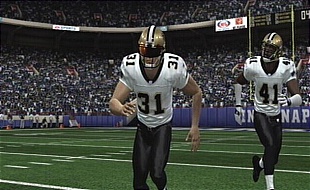 After simming through the pre-season it was time to begin the games with meaning. It was a tough first draw having to go on the road and play the defending champions. Padre knew this meant matching up against Marvin Harrison. He was going to get tested in his first regular season game. How would he handle the challenge? Click through for recaps on the first three games and a highlight video from the opener against the Colts.
Saints @ Colts
Peyton Manning played like himself in this game. He was audibling a lot and running off time on the play clock each time he got to the line. It was a tight game into the 3rd quarter when the Saints held a 14-10 lead. However the Colts came through with a few big plays including a Harrison TD that you'll see at the end of the video. The Colts won 31-17. Padre had 4 tackles and a FF in the game and did pretty well all things considered. Manning only threw one INT in this game so after the 7 INT pre-season game maybe it was a combination of the QBs and being pre-season vs regular season.
In the video I tried to add in some examples of how it shows you a "mismatch" when you hit LT. Also one of the coolest parts of playing a CB is pressing a receiver. You do this with RB. However the success of it will depend on the ratings of the receiver and the defender. So pressing Marvin Harrison was futile, however it was relatively more successful against receivers in the following games.
Saints @ Bucs
It was a totally different feel going up against Joey Galloway. This is especially the case because Padre over-estimated his recovery time due to his speed. In NCAA Football he was able to catch up after making coverage mistakes. However in this game Galloway had 2 catches after beating Padre and he actually extended the space between them during the pursuit (one went for a TD). I noticed the defense calling a couple audibles although you can't trigger that yourself, however you can call timeouts. Also I've seen more balls thrown deep than in NCAA which rarely if ever happened. That is part of why Padre got beat cause he wasn't expecting Galloway to get those opportunities. Jeff Garcia threw 6 INTs and 2 were returned for TD. I'm going to change to a new difficulty level instead of Pro to see if I can correct that somewhat because thats just too many. Even though this game was somewhat close into the 3rd quarter the Saints pulled away late to win 43-17. Padre had a forced fumble and 3 tackles.
Titans @ Saints
One thing I'm starting to pick up on is a lack of sustained offensive drives with SuperSim. Most of the scoring for the Saints has come from TDs off of INTs or setting up in good field position after turnovers. This is another thing that could possibly be affected by the difficulty level. Unfortunately I forgot to change it before this game. This game was 3-0 Titans lead in the 3rd quarter but because of some turnovers it turned into a 23-3 win for New Orleans. Padre had 6 tackles in the game. There may be some sort of glitch as I've noticed it a few times, when the offense goes no huddle the camera sometimes doesn't reset behind Padre, it ends up looking more like a sideline view. Ironically I kinda like that view and wish it was an option.
So the next update to come on Sunday will include some simmed results, possible playoff game recaps, analysis of the affect of changing difficulty, and then a look at the off-season.