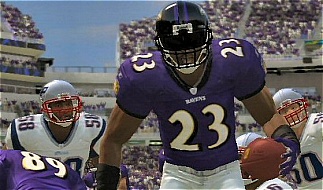 UPDATE 8/15: I have received word that the Madden team is doing some tweaking today to try and improve the online experience. There may be instances where players are booted from games as those changes are implemented. Hopefully we see some immediate improvements in this area. I will be attempting more games this afternoon and evening and will report back on the results.
*Updated results on 8/15: I attempted to play six games. The loading into the team selection screen and into the games was considerably faster, and there was no sense of any lag present. However in the first two games (custom teams) we got disconnected at kickoff. In the third game got disconnected on the second drive of the game. In the 4th game got disconnected on the second play of the game. The 5th game disconnected on the first play of the 2nd drive. The 6th game disconnected a couple plays into the first drive.
Updated results on 8/16: Something has clicked as I was able to play all three games today to completion and they were relatively lag-less. Hopefully this is a sign that something has been corrected and people who have had disconnect issue will not experience that anymore.
This time it is EA's flagship title Madden 08 that is having major issues. Eight Nine 10 16 attempts at playing online and eight nine 10 16 disconnects to show for it. All occurring at or soon after kickoff. This has not been an isolated issue as the same thing is being detailed on message boards across the net discussing Madden. It also is not specific to the 360 or the PS3.
Previously I wrote my detailed review of online play. One of the topics of course was lag which seemed to be a crapshoot, but this disconnect issue hadn't really been witnessed on a wide scale until today.
It is absurd that it is practically impossible to get a good game in on release date of the biggest title of the year. This is supposed to be "Maddenoliday" right? Sorry to those people who actually took off work and expected to play online. And EA wonders why so many people go online for one or two games and never return? This is a one of the main reasons. Online has already been spoiled for many out there.
Everyone is excited about the release of Madden. They get it home, hop online, and come across these type of results. Saying that maybe in a couple weeks things will smoothen out is not going to cut it. Online needs to be ready to go for the release, otherwise the community will never fully grow to its potential. We'll be stuck in the vicious circle of not enough people play online so they state they can't justify putting in new features, options, or even making it run properly.
It's a catch-22. EA may claim that a lack of attention to performance and options for online play is because only a small % of consumers use it. However what motivation do new players have to go online? And if they do how much of an opportunity are they going to allow before they give up?
When they get on and get glitched, disconnected, or stuck in laggy games for their first experiences online that is going to sour them on it for good. And that is what has happened with NCAA Football 08, Nascar 08, and now Madden 08 this year.
It is release day for Madden 08. Also known as "Maddenoliday". Good luck playing online.