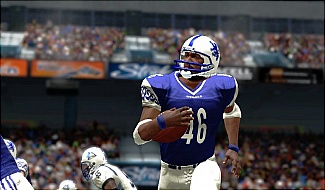 TheStreet.com takes a look at the sales performance thus far for All-Pro Football 2K8 and whether or not it has done well enough to warrant it becoming a bi-yearly franchise such as 2K Sports/Take Two had been hoping for.
Though Take-Two had hoped to turn All-Pro Football into a franchise that could take on the Madden juggernaut, so far, its efforts haven't paid off. The company, says Divnich, would be better off pulling the plug on its next football game.
You can find myself quoted within the article and can also read my take on the situation from a couple weeks ago here.
According to an analyst projection, the game may ship between 500,000 and 733,000 copies, which to me is a far overblown number. It appears on target for about 200-250,000 sales the way things are shaping up. As time goes by it looks like they'll be lowering the price, possibly very soon. So that is another thing that should be factored in when it comes to how profitable (or not) the game will end up being.
You can read the full article at thestreet.com by going here.