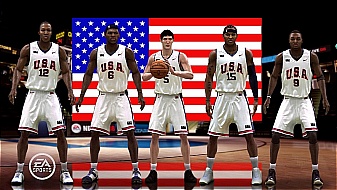 A new producer blog has been posted that goes over the details of the recent announcement that EA had obtained the FIBA license for the NBA Live games begining with 08.
Among the topics discussed are the rosters which they are only allowed to use players who have participated in a FIBA World Championship league sponsored event such as the qualifying tournament which will take place next month. This is why Kobe Bryant will not be on the initial USA team roster. However it is stated that players will be added in via roster update after they officially have the rights to them and there will likely be one ready to go for release of the game.
Now I know that some of you may be thinking that overall, the feature may seem a little bit light. The reason for this is because the deal for the FIBA license was not signed until late April of this year. At the time the deal was signed, we contemplated waiting until NBA LIVE 09 to unveil the full feature, but instead we decided to implement a first look feature to give everyone a little taste of what is to come in the future now that we have acquired this license.
This is something that was discussed at the Community Event in June. They had to decide whether to add it in this year if it meant not being fully realized due to the lack of time they had. Ultimately they determined that having the eight teams with authentic players in a single elimination tournament would be worth it and be a big bonus for fans of the game. This is the reasoning for the limited amount of teams, lack of trapezoidal lane or international stadiums. However it offers some unique elements that wouldn't have been available otherwise such as bringing the international players into Dynasty mode.
You can check out the full blog posting here.