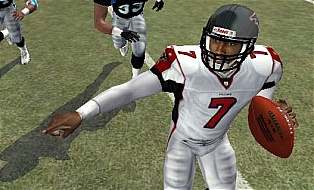 With Michael Vick admitting guilt to federal dogfighting and conspiracy charges, there is no question that EA will look to remove him from Madden 08 completely. Both the NFL and EA will not want to be associated with him by having him in their game any longer.
Examples of (somewhat) similar situations from this year include Pacman Jones not being in the game at all due to his year long suspension and Odell Thurman being removed from the game in the first roster update as his suspension was extended another year.
With Vick guaranteed not to play this year he will surely be removed from the game with the next roster update. In all likelihood that update will be released in the week leading up to the start of the regular season. In the previous roster update, Vick was dropped down the depth chart but remained in the game and retained his original ratings.
With significant prison time ahead, followed by a suspension(s) tacked on by the NFL, and considering the stigma around him after all of that passes, it seems very unlikely he'll ever play in the NFL again. Time is running short for those who have reaped the rewards of the ultra-mobile QB in Madden over the past several years. The Brushback dubbed the video game version of Michael Vick "The 2005 Sportsman of the Year" and he really was that impactful in the games. The next couple weeks will probably be the last chance to ever play with him (outside of saving the old roster file and playing with it offline). The landscape of Madden has changed so drastically, so quickly. But there is always someone else who will be turned to when one goes down, and in this case it is likely Vince Young who becomes the new go-to Madden QB.