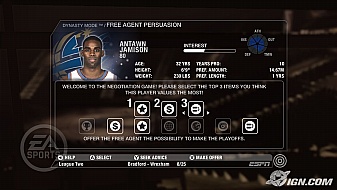 IGN has posted an interview with NBA Live 08 producer Brian Ullrich that discussed the Dynasty mode for this year. I have recapped some of the main points below as well as added a video at the end.
Push system: Have full control over what you want to deal with and what you don't in Dynasty mode. You can fully customize the experience to take part in what you like and leave what you don't to your staff by setting filters. Pop ups and alerts will make you aware of important details that may need to be addressed.
Sim intervention: Now have the ability to jump into a game that is being simulated at any point. Once you enter you have to complete the game. Simming has normal, fast, and super fast speeds. You can set alerts to let you know when you may want to enter a game. For example if it is a close game late or if one of your players is nearing a statistical milestone.
Dynasty central: replaces the old "calendar" menu arrangement with a much easier to navigate setup which has the important areas easy to access.
Team direction: There are three different team classifications. Rebuilding, Up and Coming, and Contending. The teams will make decisions based on what they are considered. A contending team may be more willing to trade for or sign an aging veteran as opposed to a rebuilding team that may be looking to dump salary and pick up younger talent.
CPU trading: The CPU will initiate trade offers throughout the season. There is an immediate reception to the trades, no waiting around days for a response. Trades now include multi-player and package deals. A salary cap checker will let you know if a trade scenario is even possible.
The mid-level exception has been added.
Free agency persuasion mini-game has been added. You pitch free agents on what you think would be most important to them and it affects the chances of signing them.
You can read the full interview here. Continue through to view the video.