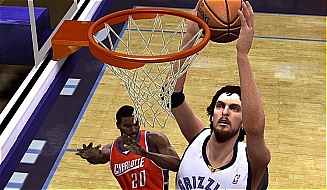 NHL 08 won't be the only upcoming EA Sports title to include online leagues. For the first time it will be introduced into the NBA Live series as well. They will be available on the Xbox 360 and PS3.
It appears for this first attempt at leagues the system will be somewhat limited. There can be 2-32 teams, 1-11 games in a season, quarter length of 2-12 minutes, and owners can have the same teams within a league (which means there will probably be no trading of players). One good aspect is that it is an open structure. There is no strict schedule which is one of the main reasons the majority of leagues end prematurely. It is uncertain whether player stats will be tracked, what the playoff setup will be, or if there will be a web site to view updated league info.
EA Canada seems to be putting a lot of effort into the online area and from my understanding it is a completely different set of circumstances for their games when it comes to online performance as opposed to those produced at Tiburon. Where widespread problems have been seen with the 08 versions of NCAA Football , Nascar, Madden, and now Tiger…those same issues may not arise with NHL 08 and NBA Live 08. They are working towards making sure they don't.
Fortunately they seem to understand that if the online experience is plagued by lag, disconnects, non-functioning features, or simply being light on options then adding in features such as online leagues would ultimately be pointless. So lets hope that they deliver and build on that for the future.