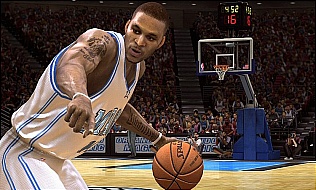 With just under four weeks to go until release (October 2nd) the NBA Live 08 demo has made its way out for the 360. It can be found now on the Xbox Live Marketplace. It is also now up on the PS3 as well.
A rematch of the NBA Finals is featured as the Cleveland Cavaliers and San Antonio Spurs are selectable (along with France and Spain of FIBA) with a half at 2 minute quarters. The download comes in at 562.57 MB.
Feel free to post your impressions by leaving a comment or discuss it in the forum thread dedicated to the topic.