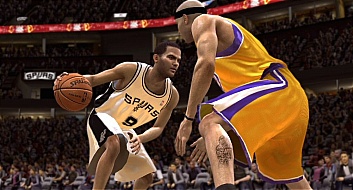 A few days ago it was mentioned in a blog on the NBA Live 08 website that there would be exciting news regarding Live this week. However I have found out that whatever it is will not be revealed until Monday the 24th.
No one really has a confident feel on what this news could be. Some have suggested the release date may be pushed up to next Tuesday, but its hard to believe EA would want to release Live on the same day as Halo 3. On the other hand it would still accomplish beating out NBA 2K8 to the store shelves. Both currently are set to be in stores on Tuesday October 2nd.
Regardless of what the news holds I am hoping to have my copy of Live early next week. Full impressions, comparisons to the Community Day build, and videos will follow soon after having it in hand.
Update 9/24: I've just been informed that this announcement is now unlikely to come today. It should make its way out by the end of the week, possibly as early as tomorrow.