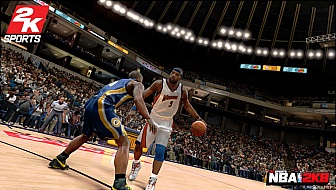 The complete track listing for NBA 2K8 can be found below.
The in-game soundtrack will also include music that harkens back to the roots of hip-hop, as well as an eclectic mix of songs from other genres that complement the virtual hoops action.

As one of the music industry's most influential producers, J Dilla inspired many artists, including Common, Q-Tip, Talib Kweli and Madlib, all of whom he had previously collaborated with in some fashion. These artists were tapped to keep J Dilla's legacy alive because of their friendship and respect for this fallen talent. Now exclusively on the NBA 2K8 soundtrack, three J Dilla tracks will feature the lyrics of Common, Q-Tip, Talib Kweli, and Madlib.

— J Dilla feat. Madlib "The Official (2K8 Mix)"
— J Dilla feat. Q-Tip & Talib Kweli "Lightworks"
— J Dilla feat. Common "E=MC2"
— Run-DMC "Sucka MC's"
— Stone Roses "Fool's Gold"
— Breakestra "Getcho Soul Together Pt. 2"
— Fishbone "Skankin to the Beat"
— Tommy Guerrero "Molotov Telegram"
— Percee P "Throwback Rap Attack"
— Quasimoto "Chrome Dreams"
— Devo "Through Being Cool"
— Quantic "When You're Through"
— J. Rocc "Cold Heat Megamix"
— Cut Chemist "Bunky's Pick"
— Billy Ball & The Upsetters "Tighten Up Tighter"
— The Highlighters Band "Funky 16 Corners"
— A Guy Called Gerald "Hurry to Go Easy"
— Sonic Trip "Energy Play"
— Baron Zen "Turn Around (Peanut Butter Wolf Instrumental Mix)"
— Finley Quaye "Ultra Stimulation"
— G-Love & Special Sauce "Shooting Hoops"
— Ernie & The Topnotes "Dap Walk"
— The Fabulous Jades "Cold Heat"