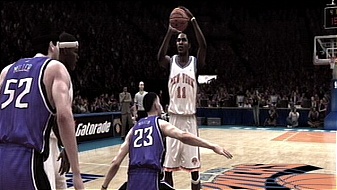 *Last updated in afternoon of Friday 9/28
So through the comments many different questions and requests have been made. I'll try to respond to some of them here. I'll add some as I go over the coming days (haven't got enough time in playing to answer certain ones) but wanted to get some up now.
First some online related info:
They have added the EA Locker. It states you can share rosters and scenarios with those on your friends list. The roster sharing from the Locker was great for March Madness last year so it's nice to have it here. It sounds like you can create scenarios and put them in your locker for other people to download and attempt which could be interesting.
The online modes are: Versus (head to head play with up to 3 guests on a console), Online Leagues which I believe are identical to those in NHL 08 in terms of how they operate and options, and Quick Pick Play which allows you to choose any 10 players for your team (these can be ranked also). I hope to have impressions on each of these over the next few days and possibly a video of them.
Throwback uniforms? Did it make it in this year? No, most teams have a "second road" or "second home" uniform but no throwbacks.
does the rebounding (ai) still seem nonexsistant? It seems way to easy to get offensive rebounds because the defense doesnt even attempt rebounds. So far it has seemed to me to be improved in that the defense is boxing out well. There is still the issue of players selectively going for the ball, letting it hit the ground first, ect.
How has the perimeter defense been improved? It wasn't that bad in the demo but a lot of times it was to easy to get in the lane because the jostle system favored the offensive player to much. Much better compared to the build at the community event. On Superstar as you could probably see in the videos, the defense works to keep you out of the lane and makes it pretty tough. Not sure how it will be in head to head play.
Also if u have time please caron butler's dunk rating and jamison's 3pt shot. 75, 71
Please give me the complete roster of the Golden State Warriors and maybe ratings if you have time. Andris Biedrins (72), Al Harrington (75), Stephen Jackson (75), Monta Ellis (74), Baron Davis (88), Brandan Wright (69), Marco Belinelli (71), Sarunas Jasikevicius (68), Kelenna Azubuike (67), Adonal Foyle (61), Patrick O'Bryant (58)
Continue on for more…

Also, is there a season mode available on 360 or is it just dynasty where you can only select one team to control? Just dynasty
Can you check out how the lineup looks for the Rockets, and maybe post a screenshot? I want to see who they put as the starting PG and starting PF in specific. thanks Click thumbnail:

Are the " Go-to-Moves" able to be pulled off at anytime or at certain points within the game..and is it a certain button n direction that needs to be performed to execute the "Go-to-Move". They execute the moves automatically if the situation for them is right.
Anything Utah Jazz, like the full roster would be nice. Mehmet Okur (72), Carlos Boozer(81), Andrei Kirilenko (82), Gordan Giricek (69), Deron Williams (83), Matt Harpring (75), Morris Almond (65), Jarron Collins (55), Rafael Araujo (65), Ronnie Brewer (64), Paul Millsap (61), Jason Hart (66)
Hawks roster and ratings. Sheldon Williams (70), Al Horford (73), Josh Smith (78), Joe Johnson (84), Speedy Claxton (72), Josh Childress (73), Marvin Williams (69), Lorenzen Wright (68), Zaza Pachulia (68), Tyronn Lue (70), Acie Law IV (69), Anthony Johnson (68), Salim Stoudamire (64-on IR), Solomon Jones (56-on IR)
Can you tell me if Eddie Curry's hair is braided because in all the screen shot he has short hair even though he has corn rolls on real life. Also in all of the screen shots Zach Randolph has red and whit sneaker that seem to match his Portland uniform not his NY Knicks one. Not braided. Yeah his shoes have the red, different from the other players on the Knicks.
A lot of the go-to moves look similar…there are too many fadeaways. I think a lot seem similar because go-to moves are basically players creating space to get their shots off. Thats how they are successful in real life and they've translated that to a certain extent in the game now. So a lot of them are fadeaways, but they aren't generic. It may be tough to spot in the videos but they're all different from each other in terms of look and effectiveness.
They look nice, Pasta..do you know if the slow down on the PS3 version has been fixed? I know in the demo, if you played a few games in a row there was considerable slow down. I don't have the PS3 version so I can't say for certain, but I know that the demo problems came as a surprise. From my understanding the 360 and PS3 versions should be virtually identical.
How is the gameplay compared to the demo? I've only played with everything on default so far, but initial feeling is that it feels very similar to the demo. Nothing has really jumped out at me as being significantly different.
When will you be giving a review? I don't do reviews in terms of giving a score to a game. If you want to take into consideration my impressions feel free, however I don't want people making a decision on a potential purchase based on a review of mine. Hopefully the videos, impressions, and details I can provide will help in a more constructive way.
How do you feel the inside game, EA seemed to be pretty proud of the new inside game this year. I'd say it is a strength of the game. You have a lot of options at your dispersal down low.
Hey Pasta when the passing icons come up is it instantaneous like in 2K8, or do you still have wait a second for them to show up like in the demo? Have to hold it down for around half a second before they appear and continue holding until making the pass or they'll go away.
I noticed that the cpu doesnt sub. I mentioned something similar after the second game I posted up. On default settings and five minute quarters fatigue doesn't seem to come into play much if at all. I had auto-subs on and it never did one the whole game. I'm sure it is something that can be tinkered with.
Can I see Phoenix Suns' Leandro Barbosa's jump shot? Is it any special? I'll try to get a short video for you today or tomorrow.
are able edit the players? From what I've found you can edit their position, secondary position, jersey number, and ratings. Everything else such as appearance and accessories are locked.
Any word on if you can import the draft classes form NCAA 08? Unfortunately no. This is something that was discussed at the community event. The situation of March Madness releasing months after Live presents some issues to deal with. We may see it next year though.
Hey pasta whats the !BIG NEWS!, is jordan in the game or is there a 5 vs 5 online? Thanks. Nope to both. It isn't release date related either.
---
Hey pasta could you please post the Orlando Magic player Ratings. Dwight Howard (85), Tony Battie (61), Rashard Lewis (84), Hedo Turkoglu (68), Jameer Nelson (79), JJ Redick (69), James Augustine (61), Carlos Arroyo (69), Keith Bogans (68), Keyon Dooling (71)can you please please please pleaseeeeeee post a screen shot of Acie Law IV on the hawks, thanks pasta. Click thumbnail:

Can we see the sixer player ratings. Samuel Dalembert (72), Shavlik Randolph (63), Rodney Carney (67), Andre Iguodala (84), Andre Miller (77), Kyle Korver (69), Thaddeus Young (71), Willie Green (69), Steven Hunter (63), Jason Smith (67), Louis Williams (58), Kevin Ollie (60), Bobby Jones (61-on IR), Aaron McKie (63-on IR)hey pasta, i'm dying to know if Yi Jianlian is in the game….if so what is his rating? thanks. He is in the game on the roster for China, but is not on Milwaukee's yet. He is rated 73.I want to know if the Rockets court is the new one that was recently made(not much red anymore). It doesnt have the new court.
---
Some dynasty info:Can you switch teams from within dynasty mode? I don't see a way to do it. Maybe you can during the off-season, but it would take too long for me to sim that far ahead and see.I dig the push system, how you can choose what you want to deal with and pass off everything else. The alerts are nice, and you can set which ones you want to come up or not.
I think player fatigue will be a much bigger factor in Dynasty than you see in Play Now games. It looks like it tracks it season long (players won't start games at 100%) and will affect performance.
The simming is also a nice improvement. You have three different speeds and can jump into a game at any point. If you do, you have to finish the game. You can also set up alerts so that you'll be prompted when certain situations occur. So if its a close game in the 4th quarter, or if a player is nearing a record, you can be made aware of it and jump in to try and finish it off.
You can only edit a player's position, secondary position, jersey number, and player ratings.
I didn't see a way to shorten the season, looks like it has to be the full 82.
The rumors area is interesting. You can assign an assistant coach to research specific rumors and find out more about them.
There is the option for fantasy draft. Looks like you can start the mode by having a 2007 re-draft.
The main area where everything is accessed from is a huge improvement over previous years. I think people are going to like all the changes.
---