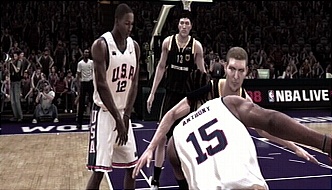 Here is another full game broken down by quarter. In this FIBA matchup Germany faces off against the United States. This one is played on All-Star difficulty and to me is by far better than the two games I have posted previously. I made sure to do a few go-to moves in there as well.
Of note, these are the default FIBA rosters. EA has stated they will release roster updates which will include adding Kobe Bryant to the US roster around the release date.
This will probably be the last significant update for today (Thursday). Continue to check the question/answer posting which I'm updating when I have the opportunity to do so, and tomorrow and through the weekend when I'll have more new content.
Continue through to view the videos.