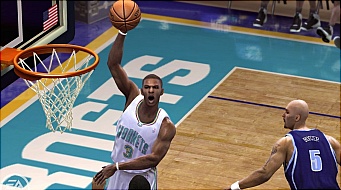 Here is the video I put together displaying the Go-To Moves of many players from the practice gym. After finishing it up I realized how dark the gym is so it may be difficult to make out the player. At the very least you should be able to get an idea of their moves through the video that plays in the upper right corner (for some reason no video plays for Steve Nash or Allen Iverson).
Included are 24 different players: Kobe Bryant, Dwyane Wade, Chris Bosh, Tracy McGrady, Kevin Garnett, Steve Nash, Dirk Nowitzki, Carlos Boozer, Ray Allen, Paul Pierce, Carmelo Anthony, Gilbert Arenas, Baron Davis, Yao Ming, Jermaine O'Neal, Shaquille O'Neal, Michael Redd, Chris Paul, Tony Parker, Lebron James, Vince Carter, Chauncey Billips, Shawn Marion, Elton Brand.
Continue on to view the video.