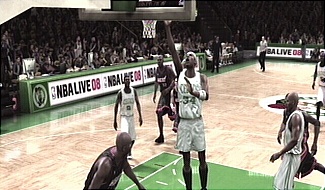 This game features the Miami Heat facing off against the new look Boston Celtics and is played on All-Star difficulty.
A couple notes:
I've seen comments in different places about the aggressiveness of point guards and that is true to a certain extent. You'll need to play good defense on them otherwise they'll drive the lane or pull up on you. However there is a big difference depending on who the PG is. Face Jason Kidd and he'll terrorize you when you're controlling Earl Boykins (trust me on this one) but here Jason Williams wasn't really a big concern of mine.
I noticed a few auto-subs made in this game for the CPU. I doubt it was necessary given the little fatigue that comes off with the default settings, but that should mean you'd see more in longer games, or especially if adjusting sliders.
I'm going to attempt to get up one game video tomorrow, Sunday, and Monday. I'm looking at Chicago @ LA Lakers and Charlotte @ Atlanta. If you have requests for the thrid matchup make them in the comments. Sorry that I won't be able to get everyone's teams in obviously but I'll choose at random from the suggestions.
I'll also try and add some more responses in the questions/answer posting (added a few regarding dynasty today). I hope to record at least one online game as well, possibly tomorrow.
Continue on to view the videos.