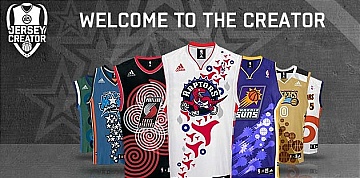 The announcement that has been hinted at over the past week or so in relation to Live is the EA Sports NBA Live 08 jersey contest.
Using the jersey creator program on the website you can design your own completely unique jerseys. Entries will be accepted through November 16th. The winning submission may become downloadable content for Live 08 in addition to the top three receiving prizes.
If you create any jerseys and upload them to the gallery feel free to post a link to them in the comments or email it to me and I'll feature them in a future posting.
I suspect there may be more to the contest than what has already been revealed. There should be a blog on the EA website today (Friday) going over all the details.