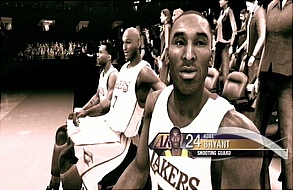 NBA Live 08 should be in stores today, so here is my final summary of my thoughts on the game and a recap of the prerelease coverage. At some point in the near future I'll do a posting requesting feedback on the game and suggestions for next year that I can then put together and pass along to EA.
Full game videos: Rockets @ Sonics – Pistons @ Magic – Go-To Moves – USA vs Germany – Heat @ Celtics – Bulls @ Lakers – Bobcats @ Hawks – Online Kings @ Warriors
Continue on to read my final prerelease thoughts on NBA Live 08

The game naturally offered a significant improvement over the build I played back in late June. I was definitely pleased that many of the things I pointed out were addressed at least to a certain extent. EA deserves credit for having that Community Event early in the process, seeking our feedback, and then acting on what we brought up.
The online play has been exceptional up until now so hopefully that holds strong now that the game is officially out. The Quick Pick Play is a nice addition as is the EA Locker. However the leagues amount to glorified tournaments that are unlikely to be completed. The open nature of them is a good but having no playoffs removes any motivation for owners that have no chance at the best overall record. I'd like to see co-op added in next year with at least the 3 on 3 that NHL 08 had but ideally a full 5 on 5 across 10 different systems.
The "push" system of Dynasty mode is fantastic. I've never been a Dynasty/Franchise player but I will spend time with it in Live 08. I can't speak to how well things such as trades and statistics come out but the overall framework and options within Dynasty is excellent. Including FIBA and the real players is a nice bonus for this year and will be even better next year.
When it comes to gameplay and aspects within it there are the ups and downs you would expect. The game looks fantastic graphically and the 60fps makes for a much better experience. The floor spacing and off-ball movement are what I like the most about the game this year. The game seems to play even better head-to-head than it does against the CPU. "Own the Paint" makes for enjoyable low post play. The addition of the 14 new shot ratings for the Hot Spots adds a great deal of realism and individualism. The go-to moves are cool as well.
Rebounding is very inconsistent as sometimes multiple players go up for the ball and other times everyone stands around watching. It seems user controlling is critical, a much better chance of success when taking control of a player and manually jumping for boards. There is very little agressiveness going after loose balls also, players just stand around watching and don't make attempts at saving any that are going out of bounds. The dunking doesn't always look right and in some cases going into dunks just move defenders out of the way, it would be nice to have animations for when players get dunked over. The fast break AI is probably the thing that bothers me the most. On offense your teammates won't always go towards the basket and on defense on occasion they'll go after players who aren't the most immediate threat (such as letting the ball handler go by as they pick up someone setting up behind the 3pt line). Icon passing requiring you hold the RB down to bring them up should be changed to something more natural and quicker to activate. Not to mention a way to lead passes as many times players just stop and wait to receive the pass.
The other major addition I'd love to see next year is a Superstar type mode. When it comes to offline modes that has become what I spend my time with in Madden and NCAA Football. I believe it would work really well in a basketball game.
Overall the effort is a major step up over last year. One thing that is tough to display through videos or communicate through impressions is the fun factor because it's something that is totally subjective. I find the fun factor to be there for Live 08 but it is not possible for me to say whether someone else will. Hopefully all the coverage at the site has provided a good look at the game and that I was able to provide some solid information for everyone out there.
Make sure to check back soon for the posting asking for feedback and suggestions for NBA Live 09!