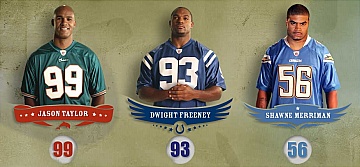 With the voting for the NFL Tour cover athlete ongoing but ending in the near future I thought it would be interesting to see who the visitors of the site slant towards. Will the voting here be an indicator of the eventual winner? Choose your favorite in the poll below. And remember to vote at the NFL Tour website every day.
-Jason Taylor comes off an amazing season in which he recorded 10 1/2 sacks, two interceptions both of which were returned for touchdowns, and 10 forced fumbles. That earned him the NFL Defensive Player of the Year award. He has averaged nearly 13 sacks and five forced fumbles a year since the 2000 season. He has a sack and a forced fumble this year for the winless Dolphins.
-Dwight Freeney had a down year statistically in 2006. He had only 5 1/2 sacks but did force four fumbles. Over his career he has averaged over 11 sacks and five forced fumbles a year. He represents the reigning NFL Super Bowl Champions. He has a sack and two forced fumbles this season as the Colts have rolled to an undefeated record.
-Shawne Merriman had 17 sacks despite missing four games due to suspension last season. As a rookie he recorded 10 sacks even though he didn't become a starter until week seven. His suspension was due to violating the league's steroid policy. So far this season he has three sacks and a forced fumble for the struggling 1-3 Chargers.
{democracy:7}