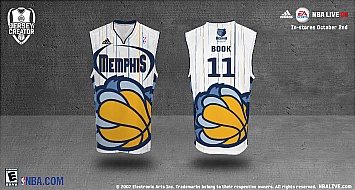 With the NBA Live jersey contest having been up for over a week now the gallery has started to fill up. I went through and pulled out some of the best. The first group have been labeled as "EA Favorites" which likely denotes them as the ones that have a chance at winning. I also found a few that stood out from the rest of the group. There is still a long way to go (November 16th) before the contest ends so we'll look at more of them as time goes by.
If you have created a jersey feel free to post a link in the comments or email it to me and I'll feature them in a future posting. The site to create them at can be reached by clicking here.
Click on the links to view the images.
EA Favorites: Cavs – Grizzlies – Heat – Hornets – Magic – Suns – Nets
Others: Grizzlies – Mavericks – Wizards – Cavs – Blazers