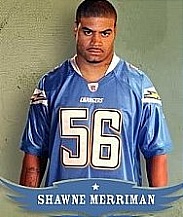 The results are in and according to the North County Times the winner of the honor to represent EA Sports' new title NFL Tour as the cover athlete is Shawne Merriman.
Merriman beat out Jason Taylor and Dwight Freeney through the voting process which was conducted on the official NFL Tour website.
This news doesn't come as much of a surprise as Merriman was seen from the outset as the favorite. The voting in the informal poll here at the site reinforced that.
(The news has since been made official. The press release can be found here)