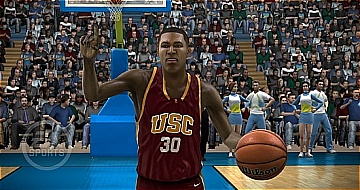 Recently the first details and screenshots for March Madness 08 were released, and now the first gameplay footage along with a producer interview have made their way out via Gametrailers.
There certainly appears to be an NBA Live look to the game, and the interview touches on many of the same topics that Live did leading up to its release such as the focus on five-on-five fundamentals and enhancements to post play. There is also more about team momentum and player composure, game modes both offline and online, player editing, and the overall atmosphere.
Continue on to view the two videos.