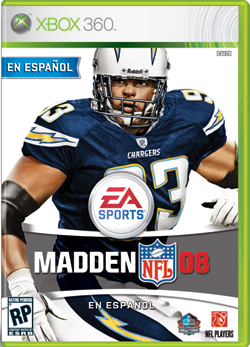 In a bizarre coincidence, EA has announced a new cover athlete for the Spanish language version of Madden 08, Luis Castillo of the San Diego Chargers. Last Thursday fellow teammate Shawne Merriman won the vote to be on the cover of NFL Tour. That means that in less than a week two players who have been either caught (Merriman) or admitted to (Castillo) taking steroids will be the new representatives for these games.
Electronic Arts announced today that Madden NFL 08 En Español will be available this December for the PS2 and Xbox 360. Fully translated in Spanish, Madden NFL 08 en Español will feature San Diego Chargers defensive end Luis Castillo on the box cover. Madden NFL 08 en Español features exclusive Spanish language content, including additional music tracks, and Spanish play-by-play and game analysis voice-over.
By all accounts Castillo is of high character despite the steroids incident, but combined with Merriman it certainly raises the issue of what type of players should be on the covers.
EA took some criticism over the Merriman announcement, although I was surprised there wasn't more. Jason Taylor, who felt Merriman shouldn't have been eligible for awards or the Pro Bowl, probably wasn't pleased that he ended up losing out to him for the cover.
Yes, the fans voted him in, but it seemed obvious from the start he would be the likely winner. EA chose to make him a candidate when they could've easily found someone else to put up, but they were satisfied with him potentially being chosen for the cover.
Oh, and on cue, its already been pondered whether Castillo will fall to the Madden cover curse as well.
So what do you think…should there be a level of credibility to the cover athletes more so than just who is the most marketable or popular?